Daphne in concert: director Emma Jenkins in conversation with Scottish Opera

Richard Strauss holds a solid place in today's operatic repertoire with works such as Elektra and Der Rosenkavalier, but his 1938 one-act opera Daphne – a piece he held dear until his death in 1949 – is just now receiving its Scottish premiere. The concert staging is by director Emma Jenkins, whose work on the 2022/23 Opera Highlights tour was well received by audiences across Scotland. She brings a bold vision – drawing from Strauss' world – to his mythological opera. She spoke with Scottish Opera about the enduring appeal of classic stories, challenges of operas in concert, and updating the setting from ancient Greece to Weimar Germany.  
Opera has drawn on Greek myths since its earliest days. 'The classical tales have always made great subjects for a modern reimagining,' Emma says. 'They may seem chronologically remote but they are founded in deeply human struggles that are enduring. Opera probably does this better than any other art form: classical stories are epic and need an epic machinery to truly do them justice. The forces in opera are unmatched – we have a chorus and, in the case of Daphne, a huge orchestra, which allows us to present both the cosmic scale of the story and also render them uniquely human and relatable.'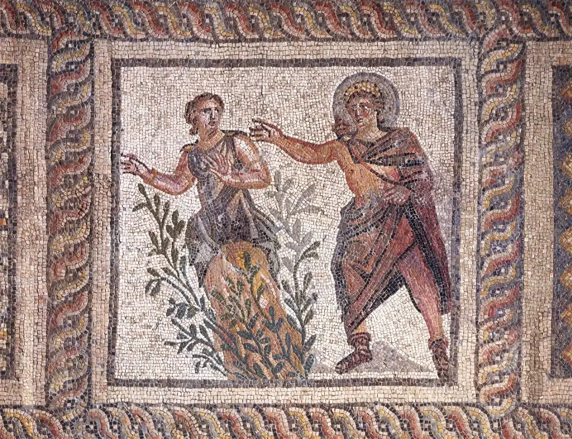 In Daphne, Strauss retells Greek mythology - with a twist.


Emma approaches an opera in concert very differently to a fully staged opera, in no small part due to the reduction in rehearsal timelines. 'As a director, you need to distil the concept down to its bare essentials,' she says. 'Preparation and clarity are key so that the focus becomes solely on communicating the narrative. There is little scope for movement, especially regarding the chorus, so clear composition in terms of the picture one wants to create supersedes all other considerations. It is always useful to have a unified aesthetic for costume and any small bits of props and furniture, even if it is a simple colour palate that coheres everything seen on stage. Ultimately, it is about working quickly and with clarity to tell the story. One becomes more in service to the music than ever and also more resourceful.'  
With its famously rich orchestrations, Daphne is the perfect candidate for Scottish Opera's Opera in Concert series, and fits the format dramatically as well as musically. 'The music is extraordinary and rapturous with shades of Wagner,' Emma says. 'Daphne's final transformation must surely be one of the most glorious passages of music ever written.' 
'It's a tricky piece to stage in many ways,' Emma says. 'Huge swathes of it are static arias in which the protagonists explore and unpack their emotions and inner conflicts – about 20 percent of the opera is Daphne singing solo. However, it is a hugely significant and deeply mystical piece that I think speaks to all of us. Its message – the need to stay true to one's beliefs no matter what – is enduring and universal. Although the end is tragic, Daphne triumphs and transcends this war of attrition, metamorphosing into something greater than even she could have imagined.' 


Get a flavour of Richard Strauss' score through American soprano Renée Fleming and WDR Symphony Orchestra Cologne's recordings.

These themes certainly spoke to its composer and his times, central to Emma's staging. 'It was Strauss' personal favourite and carried with it profound personal significance, composed as it was at a time when Strauss had elected to remain in Nazi-occupied Germany,' Emma explains. Strauss' relationship with the Third Reich was fraught: he privately opposed their ethos and used his influence to try to protect his Jewish family, but also willingly collaborated with the regime. In Daphne, 'the private struggles and tensions of the composer are played out within the context of a classical epic,' Emma says. 'Given Strauss' well-documented obsession with the piece and the importance it carried in his life, is there more to this than meets the eye? If Daphne is about anything, it is about staying true to one's principles in the face of terrifying coercion, even if it means death.' 
With this in mind, Emma's staging moves the setting from some mythological past to the end of the Weimar Republic, as fascist forces overwhelmed a hedonistic society. 'Strauss' own decision to stay in Germany after the rise of the Nazi party and toe the line, as it were, weighed heavily upon him,' Emma explains. 'He had been appointed President of the Reich's Music Chamber by Goebbels. The organisation was designed to control German cultural life, yet Strauss was no Nazi. He fought to keep his family safe while remaining and working within the confines of a regime he abhorred; perhaps this is why the piece haunted him to the last. One cannot help but see the piece as an allegory for something far greater. What you see on the stage is a reimagining of the attempted corruption of innocence within the polarised setting of Weimar Germany and the rise of the Brown Shirts. Innocence, nature, and light will triumph over darkness in Strauss' opera in a way that they never could in reality and in his lifetime.' 
Daphne is conducted by Stuart Stratford and stars Hye-Youn Lee (Carmen 2023) as Daphne, Shengzhi Ren (Thérèse 2022) as Leukippos, Brad Cooper as Apollo, Dingle Yandell (Thérèse 2022) as Peneios, and Claire Barnett-Jones as Gaea.