Welcome  |  About Candide  |  Cast, Creatives & Production Team  |  About Leonard Bernstein  |  John Mauceri on the Scottish Opera version | Synopsis  |  Articles  |  Acknowledgements
In 1988, Leonard Bernstein took his 1956 work to Glasgow, where he worked Scottish Opera's then-Music Director John Mauceri on a revised score and satirist John Wells on a revised book. The result revitalised Candide, bringing greater focus to the story and successfully restoring much of Voltaire's original comedy. The Scottish Opera version is the one you will hear today. We're delighted to revisit a piece of our history in an outdoor production that builds on the successes of previous community operas Anamchara (2014) and Pagliacci (2018), as well as recent site-specific productions of La bohème (2020) and Falstaff (2021).
Director Jack Furness and designer Tim Meacock have created a supersized space that drops you right in the middle of Candide's adventures, moving you along with the promenade performance. Their innovative storytelling draws on touchstones of popular culture – an appropriate choice, considering the issues dramatised are as relevant today as they were in Voltaire's and Bernstein's times. Migration, mass displacement, and the refugee crisis are radically upending lives, and global commerce, social media, and the internet are rapidly changing the ways we interact with each other. Candide explores suffering, but equally humanity's capacity for hope and resilience. Comedy and tragedy work side-by-side here, with lots of room for reflection and celebration of life's beautiful, messy stories.
Our cast includes William Morgan (The Gondoliers 2021), Ronald Samm (Pagliacci 2018) and Susan Bullock (Breaking the Waves 2019). Keep an eye out among Candide's Chorus and Community Chorus – including members of the Maryhill Integration Network – as they take on multiple roles to bring this energetic world to life. Scottish Opera remains hugely grateful to the Scottish Government for its ongoing core funding. I would also like to thank the Friends of Scottish Opera, Scottish Opera's Education Angels, and The Scottish Opera Endowment Trust for their special support of Candide.
I hope you enjoy this exciting production.
Candide
New production
Opera in two acts
Music by Leonard Bernstein
Book by Hugh Wheeler after Voltaire
Lyrics by Richard Wilbur, with additional lyrics by Stephen Sondheim, John La Touche, Lillian Hellman, Dorothy Parker, and Leonard Bernstein
Orchestrations by Leonard Bernstein and Hershy Kay; Musical continuity and additional orchestrations by John Mauceri
First performed at the Martin Beck Theatre, New York, on 1 December 1956
The 'Scottish Opera version' first performed at the Theatre Royal Glasgow on 19 May 1988
Performances
Scottish Opera Production Studios, Glasgow,
11, 13, 14, 16, 18, 20 August 2022 (6pm)
Audio-described performance of Candide, 20 August, 6pm
Sung in English with English supertitles
The performance will last approximately 3 hours, with an interval of 20 minutes between Acts 1 and 2.
These performances are given by permission of Boosey & Hawkes Music Publishers Limited
Supported by Friends of Scottish Opera, Scottish Opera's Education Angels, and The Scottish Opera Endowment Trust
Cast & Creatives
Candide
William Morgan
Dr Pangloss / Martin / Cacambo
Ronald Samm
Cunegonde
Paula Sides
Maximilian / Captain
Dan Shelvey
Paquette
Lea Shaw*
*Scottish Opera Emerging Artist
The Old Lady
Susan Bullock
Baron / Governor / Vanderdendur / Ragotski
Jamie MacDougall
Actor
Sam Ebner-Landy
The Orchestra of Scottish Opera
The Chorus of Candide
Conductor
Stuart Stratford
Director
Jack Furness
Designer
Tim Meacock
Lighting Designer
Clare O'Donoghue
Video Designer
Tim Reid
Choreographer
Maisie Newman
Associate Director
Annemiek van Elst
Intimacy Coordinator
Vanessa Coffey
Fight Director
David Goodall
Cast & Creative biographies >>
About Leonard Bernstein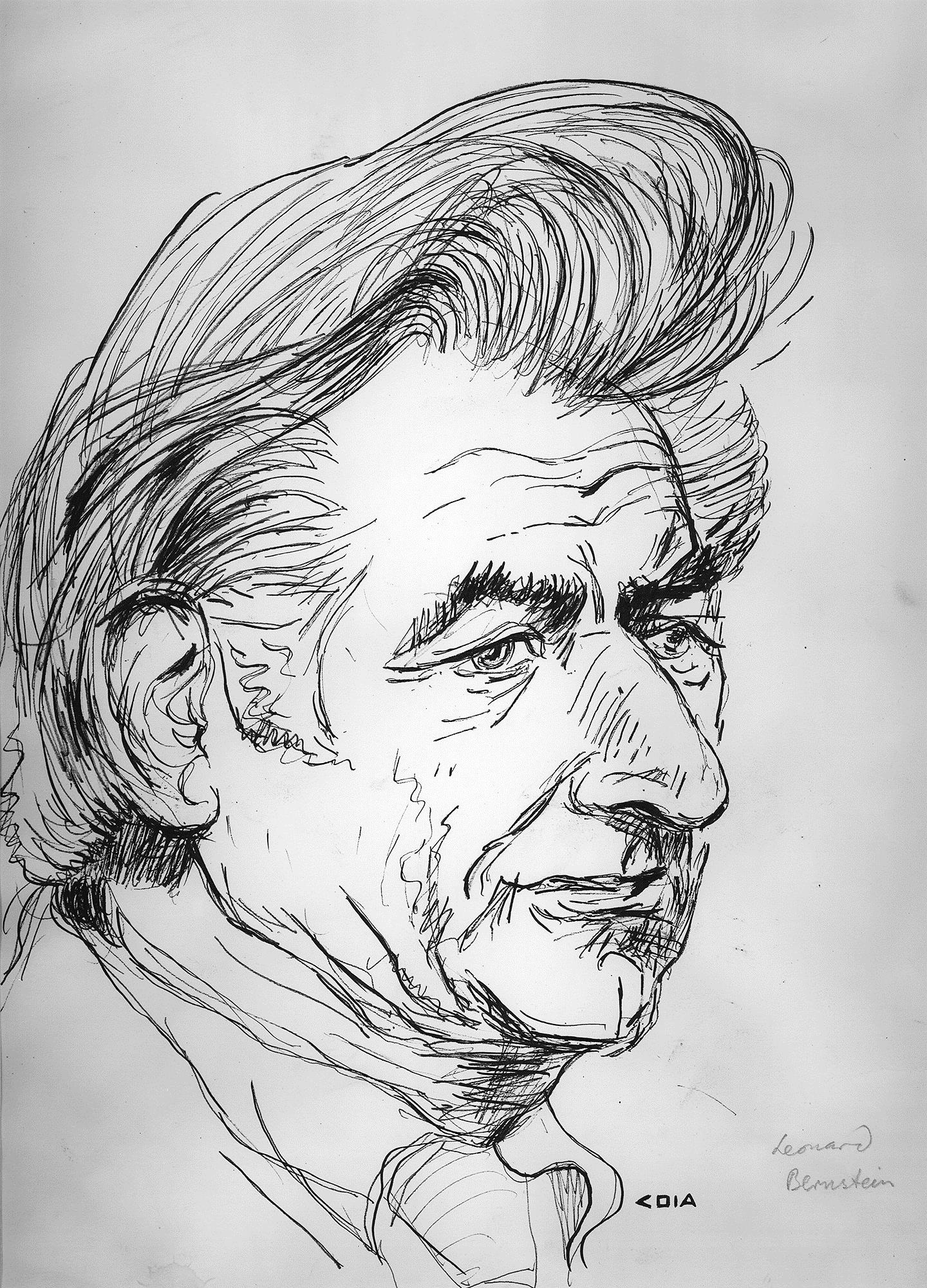 Cartoon drawn in rehearsals by Glaswegian caricaturist Emilio Coia, 1988
A world-renowned composer, conductor, and educator throughout his entire adult life, Leonard Bernstein conducted major orchestras right across the world (as well as being the New York Philharmonic's Music Director from 1958 to 1969) and brought together classical music, popular styles, and theatrical panache in works across every genre. In musicals such as On the Town, Wonderful Town, and West Side Story; his three symphonies; or much-loved works including Chichester Psalms, Mass, Kaddish, and Serenade after Plato's 'Symposium', he actively combined and reworked eclectic musical forms with remarkable energy and flair. A committed music educator, Bernstein played an active role in the Tanglewood Music Festival from its founding in 1940 and won awards for his influential televised Young People's Concerts with the New York Philharmonic. His famously larger-than-life personality made him a beloved figure among those he worked with. He worked with Scottish Opera in 1988 to revise score and book for his 1956 operetta Candide; the 'Scottish Opera version' performed today forms the basis of his 'final revised version' of 1989.
John Mauceri on the Scottish Opera version
The impetus for exploring American opera and lyric theatre during my time as Scottish Opera's second Music Director came from my colleague, Richard Mantle (then Managing Director of Scottish Opera). With this encouragement, the Company launched full productions of Kurt Weill's Street Scene, Marc Blizstein's Regina, and Leonard Bernstein's Candide, and additional concert performances of George Gershwin's Girl Crazy and Weill's Lady in the Dark.
Having served Bernstein as music director on two earlier versions of Candide, I knew he was unhappy with both. Consequently, Bernstein agreed to a new version for Scottish Opera.
During this process, we added music to the score and worked with John Wells to return to Voltaire's storyline, where Hugh Wheeler's text had departed (for instance, substituting Constantinople for Venice). Bernstein's music thus returned to the correct countries: the Paris music played in Paris, the Venice music in Venice.
The Scottish Opera Version includes just about everything Bernstein wrote for Candide from 1956 to 1971. He agreed to and participated in the new structure, coming to Glasgow for its final rehearsals and premiere and insisting that BOTH syphilis songs be included in the score!
With thanks to:
Ambassador Theatre Group for providing the front of house team.
The Maryhill Integration Network participants who made costumes for the Paris fashion show: Sara Abdelnasser, Tara Gomary, Helen Kidane, Beauty Nosa, Sekou Louis Ouattara, Malahat Shahinduran, Kidisti Tekle
Backstage Trust and W. A. Cargill Foundation for their generous support of Candide
Kindly supported by Friends of Scottish Opera, Scottish Opera's Education Angels and The Scottish Opera Endowment Trust
Emojis from OpenMoji – the open-source emoji and icon project. Used under Creative Commons license CC BY-SA 4.0. openmoji.org/faq/